Please read our COVID19 statement, by clicking here.
The health and wellbeing of our guests and ourselves is of paramount importance.
Since we first opened in July 2020 we made the independent decision to "rest" each tent with a minimum period of 72 hours between bookings.
Moving forwards, for all bookings made for 2022 and beyond, we will be removing this buffer and offering a full calendar.
Please be reassured that we will continue to follow and work closely with all government recommendations.
For the remainder of the 2021 season, our 72 hour buffer between bookings will remain in place.
Should you have any concerns or further questions, then please do not hesitate to contact us  meadowfieldglamping@gmail.com
During these uncertain times we will not be updating our events calendar.
Please take a look at our "Explore" page for things to see and do. We do recommend checking the opening times of an individual business ahead of your visit to avoid disappointment.
---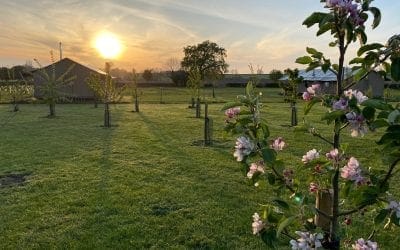 Have you noticed it? That shift in the air? (Not just the high winds). As the days grow longer there is a definite green haze appearing on the hedgerows. And with daylight saving having kicked in today (spring forward, fall back) we can officially welcome the beginning of British Summer Time!