Please read our COVID19 statement, by clicking here.
In line with the government's four step road map to cautiously ease lockdown restrictions, we are delighted to share that as of April 12th we will be able to welcome single household bookings to Meadow Field Luxury Glamping.
From May 17th this can hopefully be extended to two households.
To find out more please visit gov.uk
In the mean time whilst there is still a level of uncertainty and in addition to our continued high standards of cleaning, we have chosen to keep a 72 hour buffer between bookings in place.
Not only is this a reassuring measure but we hope it will help mitigate the risk of spreading the virus.
Should you have any concerns or further questions, then please do not hesitate to contact us  meadowfieldglamping@gmail.com
During these uncertain times we will not be updating our events calendar.
Please take a look at our "Explore" page for things to see and do. We do recommend checking the opening times of an individual business ahead of your visit to avoid disappointment.
---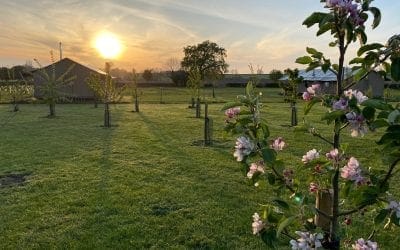 Have you noticed it? That shift in the air? (Not just the high winds). As the days grow longer there is a definite green haze appearing on the hedgerows. And with daylight saving having kicked in today (spring forward, fall back) we can officially welcome the beginning of British Summer Time!