Escape the ordinary and embrace the extraordinary with a unique glamping experience that will create lasting memories for you and your loved ones. In today's fast-paced world, finding quality time to reconnect and unwind with friends and family has become a precious commodity. That's where glamping comes in. Combining the best of camping and luxury, glamping offers an opportunity to immerse yourself in nature without sacrificing comfort. Imagine waking up to the gentle sounds of birds chirping, surrounded by breathtaking countryside, while enjoying the cosy comforts of a fully furnished tent or cabin. Whether you're looking to bond with your closest friends or create unforgettable moments with your family, glamping provides the perfect setting for relaxation, adventure, and connection. From stargazing under clear night skies to exploring local walks every aspect of your glamping experience is designed to create a sense of wonder and awe. So why settle for ordinary when you can elevate your outdoor escapades to extraordinary? Join us as we delve into the countless benefits of glamping with friends and family, and discover a world of unforgettable memories waiting to be made.
What is glamping?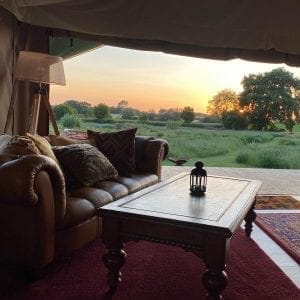 Glamping, short for glamorous camping, is a form of outdoor accommodation that combines the rustic charm of camping with the luxurious amenities of a hotel. Unlike traditional camping, where you have to pitch your own tent and rough it out, glamping offers a more comfortable and high-end experience. Imagine spacious tents or cabins equipped with cosy beds, ensuite bathrooms and fully equipped kitchens. Glamping sites are often located in picturesque locations, such as rural countryside and scenic coastal areas, allowing guests to immerse themselves in the beauty of nature while enjoying modern conveniences.
Glamping is not limited to a specific type of accommodation. It can range from safari-style tents and yurts to treehouses and eco-lodges. The common thread among all glamping experiences is the emphasis on comfort and luxury. Glamping allows you to enjoy the best of both worlds: the serenity and tranquility of the great outdoors, combined with the creature comforts and amenities you would find in an exclusive hotel. It offers a unique opportunity to disconnect from the hustle and bustle of daily life and reconnect with nature, all while enjoying the comforts of a home away from home.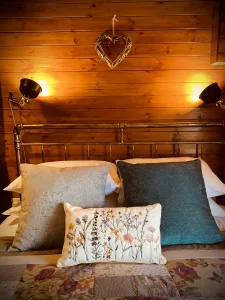 The benefits of glamping
Glamping offers a multitude of benefits that make it an increasingly popular choice for those seeking a unique and memorable holiday experience. One of the primary advantages of glamping is the ability to immerse yourself in nature without compromising on comfort. Unlike traditional camping, where you may have to sleep on the ground in a sleeping bag or deal with uncomfortable temperatures, glamping provides you with a cosy bed, and heating options, such as a log burning stove, electric blankets and sometimes even under floor heating! This ensures a good night's sleep and allows you to wake up refreshed and ready to explore the outdoors
Glamping also provides a wide range of activities and amenities to keep everyone entertained. Whether you're into walking, wildlife spotting, or simply relaxing by the campfire, there's something for everyone. Many glamping sites offer guided tours, outdoor activities, and wellness facilities such as spas and yoga classes. You can choose to be as active or as laid-back as you like, tailoring your glamping experience to suit your preferences. It's an excellent opportunity to try new things, explore the great outdoors, and create unforgettable memories with your friends and family.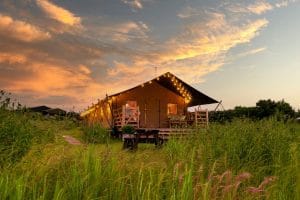 Glamping vs traditional camping
While traditional camping has its charm, glamping offers a more luxurious and comfortable alternative. Traditional camping often involves setting up your own tent, cooking your own meals, and relying on basic amenities such as communal bathrooms and limited access to electricity. Glamping, on the other hand, provides fully furnished accommodations, private bathrooms, and amenities such as Wi-Fi and electricity. It's perfect for those who want to experience the beauty of nature without sacrificing the comforts of home.
Glamping also offers a higher level of convenience and accessibility. Many glamping sites are located near popular tourist destinations, making it easier to explore the surrounding area and participate in various activities. Additionally, some glamping sites have on-site staff who can assist you with any requests or provide information about the local area. This level of service and convenience sets glamping apart from traditional camping and makes it an attractive option for those seeking a more unchallenging holiday.
Furthermore, glamping allows you to enjoy the beauty of nature while reducing the impact on the environment. Many glamping sites are designed with sustainability in mind, using eco-friendly materials, minimising waste, and implementing energy-efficient practices. By choosing glamping, you can support businesses that prioritise environmental conservation and eco-tourism, ensuring that future generations can continue to enjoy the wonders of nature.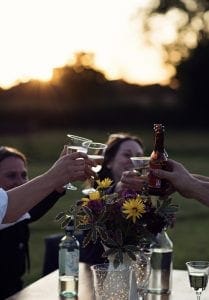 Planning a glamping trip with friends and family
Planning a glamping trip with friends and family can be an exciting and rewarding experience. Here are some tips to help you make the most of your glamping adventure:
**Decide on the type of accommodation**: Glamping offers a wide range of accommodation options, from safari tents and yurts to treehouses and cabins. Consider the size of your group and the level of comfort you desire when choosing the type of accommodation. Some glamping sites offer larger tents or cabins that can accommodate multiple people, while others provide more intimate options for smaller groups. Take into account the facilities and amenities offered by each accommodation type and choose one that suits your group's needs.
**Pack appropriately**: While glamping offers a more luxurious experience compared to traditional camping, it's still essential to pack the right gear and clothing. Check the weather forecast for your destination and pack accordingly. Don't forget essentials such as comfortable shoes, suntan lotion, insect repellent, and a reusable water bottle. Additionally, consider any specific items you may need for activities such as walking or swimming. It's always better to be prepared and have everything you need to make your glamping trip comfortable and enjoyable.

**Capture the memories**: Glamping provides a wealth of picturesque backdrops and unforgettable moments. Make sure to bring a camera or smartphone to capture the memories. Encourage everyone in your group to take photos and share them with each other. You can create a photo album or even a scrapbook to commemorate your glamping trip. These photos will serve as a beautiful reminder of the incredible experiences you shared together.
By following these tips, you can plan a glamping trip that will create lasting memories for you and your loved ones. Glamping offers a unique opportunity to connect with nature, bond with your friends and family, and create unforgettable experiences that will be cherished for years to come.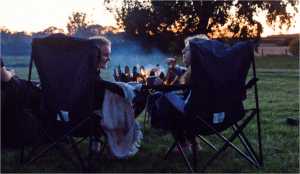 Fun activities for a memorable glamping experience
Glamping offers a wide range of activities to keep everyone entertained and create lasting memories. Here are some fun activities to consider for a memorable glamping experience:
**Campfire storytelling**: Gather around the campfire and share stories with your friends and family. Encourage everyone to take turns telling their favorite stories, whether they are true personal experiences or fictional tales. Campfire storytelling is a great way to bond, spark creativity, and create a sense of adventure and wonder.

**Stargazing**: Glamping often takes you away from the bright lights of the city, offering a clearer view of the night sky. Take advantage of this opportunity and spend an evening stargazing with your loved ones. Grab a blanket, lay back, and marvel at the beauty of the stars. Consider bringing a stargazing guide or app to help identify constellations and learn more about the universe.

**Nature walks**: Explore the surroundings of your glamping site by going on nature walks. Many glamping destinations offer scenic trails that allow you to immerse yourself in nature's beauty. Take your time, observe the flora and fauna, and enjoy the tranquility of the great outdoors. Don't forget to bring a camera or smartphone to capture the breathtaking views and wildlife encounters.

**Outdoor games**: Pack some outdoor games such as frisbees, footballs, or badminton sets to keep everyone active and engaged. These games are not only fun but also encourage friendly competition and teamwork.
Are you ready to book your next friends and family group glamping holiday?
If you're looking to book a break with your family and friends, then why not consider Meadow Field Luxury Glamping. With two spacious safari tents, located in rural Warwickshire and plenty to explore right on our doorstep, you simply can't beat a group holiday at Meadow Field Luxury Glamping. Discover what we have to offer, and find out if your dates are available.
Click on this link to enjoy a short video from Meadow Field Luxury Glamping to whet your appetite.
Expect the Unexpected
Click here to read more of our blogs.
Join us here to receive your very own backstage pass to all that goes on at MFG and Home Farm and to receive your exclusive "Hear it Here First" invitation.
How can we help? Contact us here if you have any questions.
Follow us on Instagram and Facebook
All photos courtesy of  Meadow Field Luxury Glamping