As a pet owner, I don't need to emphasise how important your four legged companions are to you. There's nothing quite like spending quality time with your furry best friend. Bringing them along on a holiday means not only taking time away becomes simpler (no dog sitters needed) but your dog gets to join you on a well-earned break too. And what better way to bond with them than by indulging in a luxurious glamping experience?  Imagine waking up in a cosy, comfortably furnished tent, surrounded by nature, and enjoying outdoor activities with your pup by your side. Luxury glamping with dogs offers a unique opportunity to escape the hustle and bustle of everyday life and connect with your pet in a breathtaking setting. From dog-friendly walks to pet friendly pubs, glamping offers a one-of-a-kind holiday experience that you and your dog will never forget. So pack your bags and get ready to create unforgettable memories with your loyal companion in the great outdoors.
Benefits of Glamping with Dogs
One of the main benefits of luxury glamping with dogs is that it offers a unique opportunity to bond with your pet. As you spend time together in nature, you'll be able to connect on a deeper level and strengthen your relationship. Additionally, glamping with dogs allows you to escape the stress and chaos of everyday life and enjoy a peaceful, relaxing holiday.
With the rise of pet-friendly travel options, it's now easier than ever to plan a getaway that includes your four-legged companion. Luxury glamping with dogs gives you the chance to visit new places and enjoy outdoor activities with your pet. Whether you're exploring footpaths and bridleways or treating yourself to local fare, your dog will love being by your side and experiencing new adventures with you.
Tips for Keeping Your Dog Safe While Glamping
While luxury glamping with dogs can be a fun and rewarding experience, it's important to keep your pet's safety in mind at all times. Here are a few tips to help ensure that your dog stays safe while glamping:
– Keep your dog on a lead at all times, unless you're in a designated dog park or off-lead area.
– Be aware of any potential hazards, such as poisonous plants or wildlife.
– Bring along a pet first-aid kit in case of accidents or injuries.
– Make sure your dog is up-to-date on all vaccinations and flea/tick preventatives.
– Keep your dog hydrated and cool, especially during hot weather.
By following these tips, you can help ensure that your luxury glamping experience with your dog is safe and enjoyable for everyone.
Finding Dog-Friendly Luxury Glamping Sites
When planning a luxury glamping trip with your dog, it's important to find a site that is pet-friendly. Fortunately, there are many luxury glamping sites that welcome dogs and offer a range of amenities to ensure that your pet is comfortable and happy. To find a luxury glamping site that is pet-friendly, start by doing a search online. Many luxury glamping sites have a section on their website dedicated to pet-friendly accommodations, so this is a good place to start. You can also search for reviews from other pet owners to get an idea of which sites are the most welcoming to dogs. Once you've found a few potential sites, be sure to call or email the site to confirm that they allow dogs and to find out about any additional fees or requirements. Some luxury glamping sites may require that your dog be leashed at all times or have certain vaccinations, so it's important to know what to expect before you arrive.
Glamping With Dogs at Meadow Field
So what does dog friendly glamping look like at Meadow Field? Well, your dog gets to call our meadow home for a few days so we want them to feel as relaxed as you do during your stay. First off, we have a designated area in our orchard, situated directly behind the safari tents. This means you can rest easy that where your dog decides to explore, it can't go far. It is secluded, meaning there won't be outsiders interrupting play time and filled with nature, plants and fun new things to play with and we're positive your dog will love running around and checking out the new surroundings.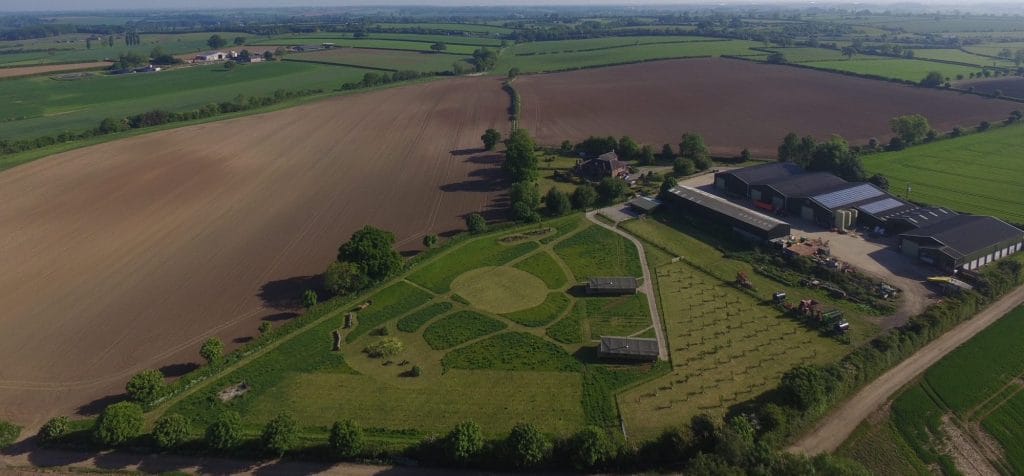 A Luxury Pet Friendly Canvas Lodge Especially For You!
Here at Meadow Field, we've set aside one of our two luxury canvas lodges especially for you and your fluffy companion. We had you purposefully in mind when designing the lay out of the lodge. This means you can relax with a peace of mind knowing your dog is safe. They have the space to roam around, relax and do whatever a glamping dog does. We have also included a few little extras just in case something got left at home.
Lots of Walks and Dog Friendly Places to Explore Around Warwickshire
We have plenty of choice for local walks you can take the dog, including the Oxford Canal, right from your own front deck.
Our two local pubs (The Old Lion in Harborough Magna and The Golden Lion in Easenhall both within walking distance) are dog friendly. Perfect to sit outside for a spot of alfresco dining and drinks after a beautiful walk in our local countryside.
Or if you'd prefer to stay put and chill out on the deck or with a fire pit – that's available too!  Take a look at Dog Friendly Warwickshire, a great website full of top places to visit with the furry canine in your life.
Are You Ready to Book Your Dog Friendly Glamping Experience?
Luxury glamping with dogs offers a one-of-a-kind holiday experience that you and your pet will never forget. Visit our website today to make your reservation and get ready to create unforgettable memories in the great outdoors.
Dog Friendly Glamping Offer
During April, May, September and October (term time only) dogs can glamp for free! Take a look at our website to find out more.
(T's and C's apply)
If you have any questions about our dog friendly glamping and what that means for you staying as a guest, please feel free to contact us and we'll be happy to make sure you have all the info you need.
You can also find us on Facebook and Instagram