Glamping is undoubtedly growing in popularity and it's easy to see why – after all, glamping is a luxurious way of spending time outdoors while still being able to enjoy the little comforts of home. It's the perfect combination, right? So whether you're an experienced camper to a first-timer, this is your sign to book your next staycation with Meadow Field Luxury Glamping. 
If you've already thought about booking a glamping trip, then you might have seen there are many ways you can 'glamp'. From staying in one of our state-of-the-art safari tents to bell tents, yurts and pods, here is our handy guide to some of the most popular types of glamping accommodation.
Safari Tents
Stemming back to traditional accommodation used on African safaris, safari tents are by far the kings of camping. Think super-sized campaign tent but a luxurious version, and with all the facilities (and room!) you need, including a kitchen, dining table, seating area and even bedrooms. Of course, we can't forget the log-burning stove at the heart of our luxury safari tents here at Meadow Field, perfect for keeping you warm and cosy during the cooler months. Safari tents – especially ours, which comfortably sleep six and are dog-friendly – are literally a home from home (you can easily stand-up in a safari tent, bonus), allowing you to escape your busy life and totally switch off as you enjoy an outdoor trip but with everything you need on hand to make your stay as easy, comfortable and enjoyable as possible.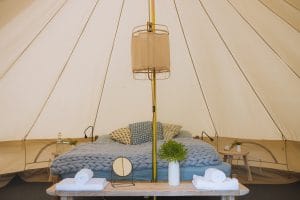 Bell Tents
Bell tents tend to be circular in shape and are supported by a tall central pole, making the middle high enough to stand up in, but the side walls a lot shorter. Bell tents offer a cosy, glamping experience. And, while some bell tents come with room dividers which means separate sleeping spaces, they're more of a glamorised tent – so don't expect the same facilities that you'd get from a safari tent. 
Yurts
The best way we can describe yurts is a happy medium between staying in a tent and a cabin. Like bell tents, they tend to be circular in shape but instead of just canvas material, they are made up of a wooden lattice-work structure for the walls, to support the roof. There's plenty of room to stay comfortably in a yurt – with the potential to have kitchen facilities, en-suite bathrooms and plenty of bed space – and is great for those wanting more of a stripped-back camping experience than you would if you stay in a safari tent.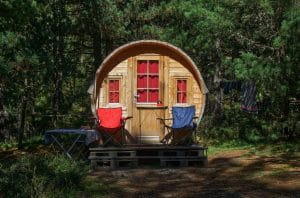 Glamping Pods
Simply put, glamping pods are wooden huts that range in size, structures and configurations, depending on your budget. If you're travelling on a shoestring, then they can be as basic as having a bed, chair and wood-burning oven, but if you're willing to pay a bit more, you're more likely to get electricity and a fully equipped kitchen. Of course, they're slightly more sturdy than a tent and offer a great alternative for those wanting to give camping ago but don't want to sacrifice life's luxuries.
Are you ready to book your next glamping trip?
Has there ever been a better time to book your next glamping trip? With winter creeping up on us, we all need something to look forward to for 2023. Not to mention the multiple benefits that come with spending time outside, including boosting your mental health, beating stress and getting a better night's sleep. Tempted? We can see why. Explore Meadow Field Luxury Glamping and book your next adventure.